Welcome to
Undercover Wiki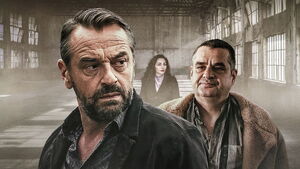 Undercover
is a Belgian-Dutch Dutch-language crime drama web television series inspired by real-life events. Undercover agents
Bob Lemmens
and
Kim De Rooij
, posing as a couple at the campground where drug kingpin
Ferry Bouman
spends his weekends, infiltrate his operation in Limburg, the Belgian province bordering the Netherlands.
A co-production between Netflix and public Belgium TV station Eén, ordered as a direct-to-series, Undercover was created by Nico Moolenaar and stars Tom Waes, Anna Drijver, Frank Lammers, Elise Schaap, and Raymond Thiry.
The first season premiered on Eén on February 24, 2019 in Belgium and was available for streaming on Netflix on May 3, 2019. The second season premiered on Eén on September 6, 2020, while it will hit Netflix's roster on November 8, 2020. The third season will premiere on Eén, VRT NU and Netflix on November 21, 2021.
The Undercover Wiki is a collaborative community aimed at documenting everything about Eén and Netflix's crime series Undercover. Created and maintained by fans for fans like yourself, feel free to start editing and add knowledge and facts about the characters, episodes, and much more in this growing database.
Join our community in our
Discussions
and chat with other fans of the show. Whether you are here to share your knowledge or to chat with fellow users, you are welcome to
sign up for an account
!
Need help building out this community?
Join the
Discussion